It is a long time ago (if it ever happened) that a book has given me such a bad taste in my mouth. It is not Tony's book because it is amazing, but some of the information which Tony reveals that makes me sick!
It is information about how the Banks and Finance companies are not honest with their customers. They get ordinary people like you and I, to invest in different products. It could be savings, stocks, bonds and funds. They market these products in a way, so we think that it is the best products in the world. They are pretty much the best products in the world and a huge money maker, but it's just not for us customers.
These investment and savings products is a huge money-maker because there are big and many hidden fees. In addition, the products are so complex and difficult to understand, for customers like you and me. That's why many customers pay too much for these products, and thereby they get a much smaller profit out of their investment.
Here's a great video in which Marie Forleo have a chat with Tony Robbins, about his new book: Money Master The Game: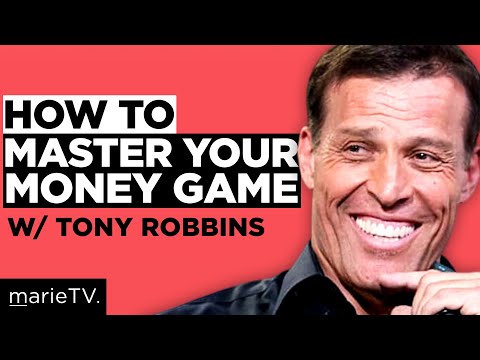 It is four years since Tony saw the movie "Inside Job," which is about why the 2008 financial crisis at all happened. He was both angry and sad, because in the movie, you will learn about why so many ordinary people lost part or all of their savings. Many ordinary people lost their homes. But many financial firms and their top leadership had already earned a lot of money, by convince customers to invest in products with too high risk and fees.
Therefore, Tony spent the last 4 years writing the book Money Master The Game, to teach ordinary investors like you and I, the game in the financial market. It's a game and there are many rules you need to know so you can better succeed in investing your money. There is much to learn, but with Tony's book is certainly possible for you and I that we can learn the game.
I have learned a lot by reading the book, and I would certainly recommend you to read it. Maybe you do not want to invest your money yourself. But the book will give you the knowledge and insight that you can use to ask some better questions to your financial advisor. This means that you can better secure yourself and that you actually have some investments and savingsthat gives you the best possible return.
There is an incredible amount of money for you to make if you have the right investments and savings. Unfortunately many cases proves that you can not always trust your financial advisor. Therefore, you must learn the game of investing your money correctly and you can the best possible way secure your financial future.
Read Tony Robbins book Money Master The Game, and you will know much more about how to invest your money. Good luck to become a Master of "The Game of Money!
About Thomas Justesen
My name is Thomas and I'm a blogger and online entrepreneur. I have a great passion for creating online business, and teach others how to also succeed online. Are you looking to learn how to achieve success online? Contact me on social media and here on the blog!